VATAKARA
Vatakara is a small town in Kozhikode district of Kerala in south India.

Geographically Vatakara is situated

to the west of kozhikode by the side of historical Kottakkal puzha. Initially known as Vadakkekara due to its position with respect to the Kottakkal puzha came to be called as vatakara by popular usage later.

Historically, Vatakara is the capital of old kurumbranadu, a tribal flock known as kurumbrar, where the main inhabitants of this place. This is the story behind Vatakara getting the name kurumbranadu.
Kalaripayyattu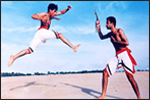 Kozhikode is famous for its martial art called Kalaripayyattu. The Northern kalarippayattu gives more emphasis on weapons than on empty hands. Northern kalarippayattu is distinguished by its meippayattu physical training and use of full-body oil massage. The system of treatment and massage, and the assumptions about practice are closely associated with Ayurveda. The historian Elamkulam Kunjan Pillai attributes the birth of northern kalarippayattu to an extended period of warfare between the Cheras and the Cholas in the 11th century.
Unniyarcha
Unniyarcha (or sometimes spelled Unniarcha) is a popular legendary woman warrior mentioned in the Vatakkan Pattukal, the old ballads of north Malabar. She is a popular character in Kerala folklore. She was from North Kerala a small state in south India who lived in the 16th century.

According to the folklore, Attummanammel Unniyarcha is from the famous Puthooram Veedu an Ezhava Chekavar family of Malabar.
Kappad
| | |
| --- | --- |
| | For the people of Kozhikode, this pleasant stretch of rock studded beach is Kappakkadavu. To the tourist it is one of the most charming of Kerala's beaches. Kappad finds mention in history and geography texts as the gateway to the Malabar coast. |
Thacholi Manikkoth
| | |
| --- | --- |
| A Kalari belonging to Thacholi Othenan, the legendary hero of the ballad of Malabar called "Vadakkan Pattu" can be seen at a short distance from Vatakara. A monument and Kalari still exists at this place which is 3 kms away from Vatakara. Every year martial arts festival is held in the month of March or April. There is a ruined fort in the town. | |
Pazhasiraja
| | |
| --- | --- |
| | A veritable treasure trove for historians and connoisseurs of art, the Pazhassiraja Museum is located in Kozhikode - the land of spices which lured navigators from time immemorial down to the Portuguese explorer Vasco da Gama in 1498. |
Kunhali Marakar
| | |
| --- | --- |
| The Marakars were admirals of Zamorins. who valiantly resisted the Portuguese on high seas. Kunhali marakkar built a fort on the southern bank of Mooriad river which was completely destroyed by Portuguese with the help of Zamorins for various reasons. | |
| | | | | |
| --- | --- | --- | --- | --- |
| Chat | | Classifieds | | Matrimonial |